Reflect and Reaffirm....
I re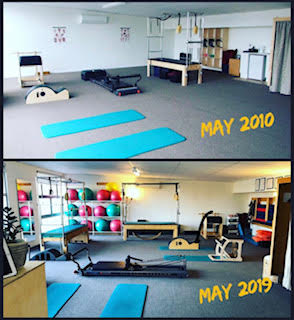 cently compared two pictures that showed the humble studio set up I opened the Studio with in May 2010 to the much more comprehensive and fully equipped set up we boast today, some 11 years since I established Movementor Pilates, my first baby. Next year Movementor Pilates will be 12!!
It got me to reflecting about the way we grow in our lives and work. Sometimes there are great highs, sometimes the plateaus seem never-ending but as cliché as it sounds the journey is the gem. The incremental steps we take in our work, our play, our movements. The consistent chipping away, persevering and upping the game, building solid foundations which hold the test of time or provide a base to launch from.
Its this ebb and flow that makes life interesting and can bring us inspiration and drive or allow time to rest and focus on ourselves or our families depending at where we are at within it. I think, in this fast-paced world where we have access to so many things so fast, and can see what everyone else is up to, it can be easy to fill up on things that don't really resonate with us or that don't really fill our cup. In being so 'busy', we can miss simple opportunities to nourish ourselves, to be quiet or still, to spend time with good friends or to spend time with our children.
When our lives are packed to the brim, we can feel easily overwhelmed when something unexpected demands our attention or we feel pulled in every direction but the one we really desire to be going. We can see someone else achieving greatness and feel that we are on the wrong path or they are 'beating us' rather than just being happy for them achieving something great and trusting our own process.
When did you last reflect on your life? What about it makes you feel joy? What are you chipping away at/working towards/striving for? When did you give yourself real time out??
Perhaps we can help you look inward?
Sign up for Franklin method Breathing Basics

Franklin Method with Amanda Erlank
November 9th 2019
Amanda Erlank of Meridians and Movement in Australia will join us for three one hour Franklin Method Workshops to explore movement with dynamic neurocognitive imagery and bone rhythms to bring out freedom of movement, heightened awareness and a better, deeper understanding of how our bodies serve us. Amanda is a Level 2 Franklin Method Educator.
For more information or to register, email abbey@movementorpilates.co.nz. Registrations can be made through Mindbody Online by clicking the 'BOOK NOW' link above right corner.

Joanne Bezzina is coming to Christchurch
November 23-25 2019
We are super excited to be hosting Joanne Bezzina of Sydney Centred Pilates, Pilates Anytime and Polestar Pilates Australia in Christchurch.
Jo is going to present two studio workshops and a mat masterclass as well as offer privates.
For more info or to register your interest please email abbey@movementorpilates.co.nz. Registrations will be run through Polestar Pilates NZ and we will likely have REPS CPD and Polestar CPD available for these classes.