In sudio Mat classes and Zooming
The studio is open and all our mat classes are available on Zoom If you are new to our studio please call or email us to have a quick chat before booking a mat class or zooming with us. We just like to check that you have some pilates experience as zoom classes mean we are less able to give individual corrections and also it is preferable that you have props to use sometimes too.
Zoom details will be on your booking emails and reservation reminders.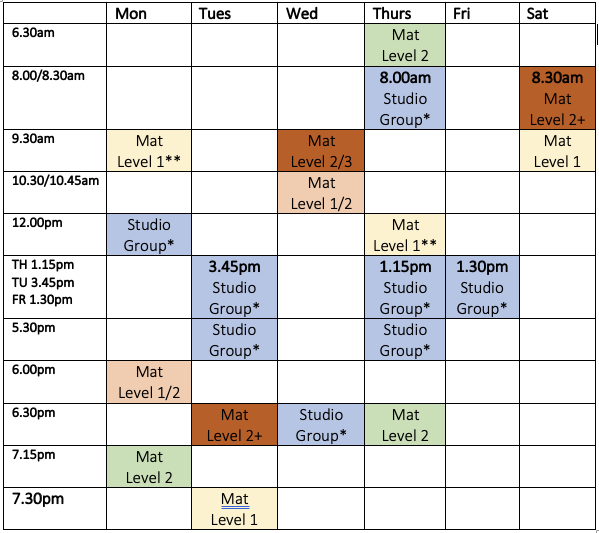 ** These classes are able to be modified for Osteoporosis, spine health, balance challenges, orthopaedic prostheses (hip/knee joint replacements), upper extremity issues which may effect weight bearing etc
* Our Studio Equipment Groups require 5 privates session as a pre-requisite to assess, set up a program and teach the equipment set-up and saftey for you to join the semi supervised group. Max of 5 clients per group.
Bookings are essential for all our classes.
If you have questions please send us an enquiry from our Contact Us page.
We look forward to meeting you soon.

Christmas/New Year Hours
The studio will be closed Friday 23rd December 22 - Sunday 8th January 23
Monday 9th January - Saturday 14th we will run the reduced schedule shown below. Privates by appointment during this time. Mat classes will be able to modified/varied as needed.
Monday 9th January - 6.00pm Mat
Tuesday 10th January - 5.30pm Studio Group and 6.30pm Mat Class
Wednesday 11th January - 10.30am Mat and 6.30pm Studio Group
Thursday 12th January - 1.15pm Studio Group, 5.30pm Studio Group, 6.30pm Mat Class
Saturday 14th January - 8.30am Mat Class
We will resume full schedule Monday 16th January 2023.
We wish you all a happy and relaxing break to rest and refresh for 2023